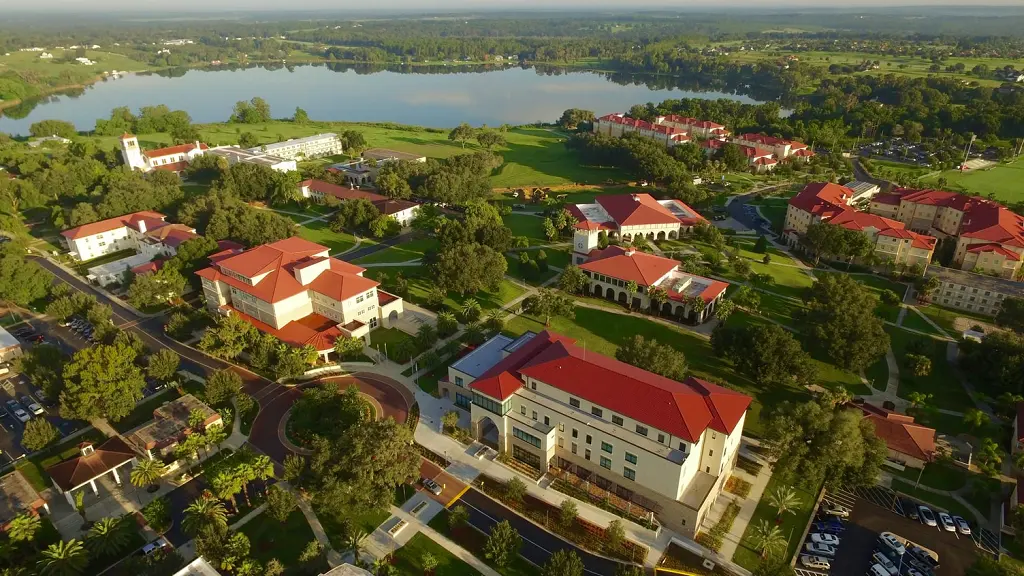 Why Does Accreditation for Higher Education Institutions in the U.S. Matter and What Does It Mean?
Tuesday, February 14, 2023
When you're choosing the right university for you, you want to be sure you're choosing a legitimate, top quality institution. But how can you know what universities are right for you? Accreditation is one way you can be sure you're choosing the right fit. Keep reading to learn what university accreditation means in the U.S., why it matters if a university is accredited, and how to check for yourself that they really are.

What does university accreditation mean in the U.S.?
To become accredited, institutions voluntarily undergo rigorous evaluation processes to demonstrate they meet the standards for academic quality. Institutions that offer online, campus, or hybrid courses are all eligible for accreditation through independent accrediting agencies recognized through the U.S. government .
An institution can get accredited in two ways: national accreditation and regional accreditation.
National accreditation: This level of accreditation is usually given to trade schools, for-profit institutions, and vocational colleges.
Regional accreditation: Generally, public (state-owned) and private nonprofit institutions are awarded with regional accreditation. The quality standards and admission criteria of regionally accredited institutions mean that this level of accreditation is seen as the most prestigious. We will focus on regional accreditation for the rest of this article, as Saint Leo University is regionally accredited.
A third type of accreditation is programmatic or specialized accreditation, which accredits specific programs offered within a university. Discipline-specific accrediting agencies award programs that offer nationally recognized high quality standards. For example, Saint Leo's business courses are accredited by the American Council for Business Schools and Programs (ACBSP).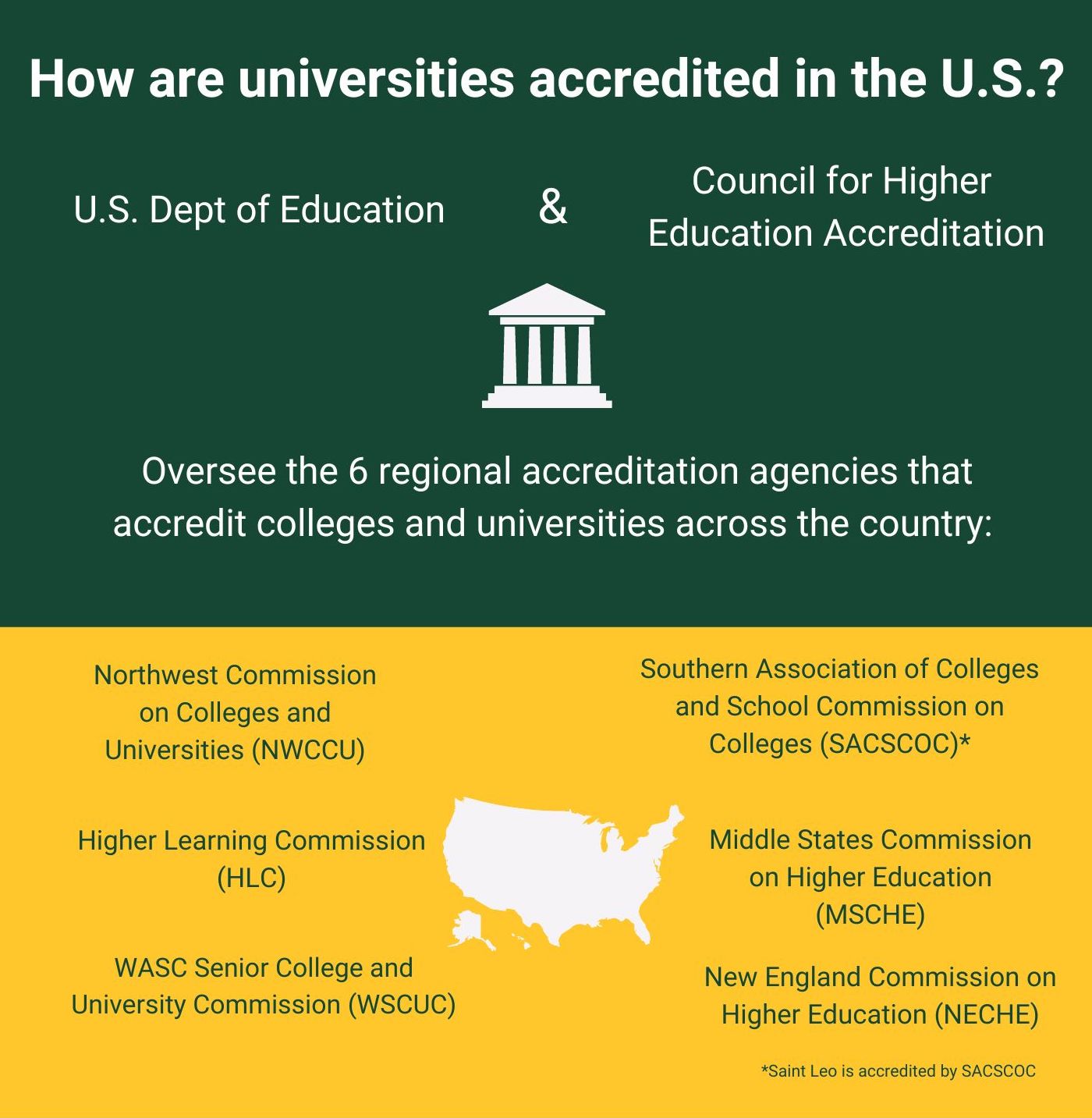 How can a university get accredited in the U.S.?

Two government agencies, the U.S. Department of Education (USDOE) and the nonprofit, Council for Higher Education Accreditation (CHEA) oversee six agencies that can award regional accreditation.
These six accrediting agencies generally work based on specific regions of the U.S. are:
New England Commission of Higher Education (NECHE):

Connecticut, Maine, Massachusetts, New Hampshire, Rhode Island, and Vermont

Higher Learning Commission (HLC):

Arizona, Arkansas, Colorado, Illinois, Indiana, Iowa, Kansas, Michigan, Minnesota, Missouri, Nebraska, New Mexico, North Dakota, Ohio, Oklahoma, South Dakota, West Virginia, Wisconsin, Wyoming

Middle States Commission on Higher Education (MSCHE):

Delaware, the District of Columbia, Maryland, New Jersey, New York, Pennsylvania, Puerto Rico, the Virgin Islands

Northwest Commission on College and Universities (NWCCU):

Alaska, Idaho, Montana, Nevada, Oregon, Utah, and Washington

Southern Association of College and Schools Commission on Colleges (SACSCOC) :

Alabama, Florida, Georgia, Kentucky, Louisiana, Mississippi, North Carolina, South Carolina, Tennessee, Texas, Virginia

Western Association of Schools and Colleges (WASC):

California, Hawaii, and related territories
Saint Leo is regionally accredited by SACSCOC.
How does it benefit me that Saint Leo is accredited?
For students from the U.S., their ability to receive federal financial aid from the U.S. Department of Education relies on if their university is accredited. However, as an online student from outside of the U.S., accreditation is beneficial for you for a variety of reasons:
Quality & oversight:

An accredited institution meets the high standards of academic quality and student experience of the accrediting bodies. Institutions that fail to meet the standards of quality may have their accreditation reevaluated or revoked, so institutions with continuous accreditation are trustworthy.

Credit transfer:

Earning credits from a regionally accredited institution in the U.S. means it is very simple to transfer those credits to another regionally accredited institution. Transferring credits is a great way to stay on track to graduate if you decide to change universities.

Employment:

When applying for a role in your field, employers commonly look into your credentials and perform background checks. Upon seeing that your degree is from a regionally accredited U.S. institution, the employer will know your education met the highest quality standards for U.S. education.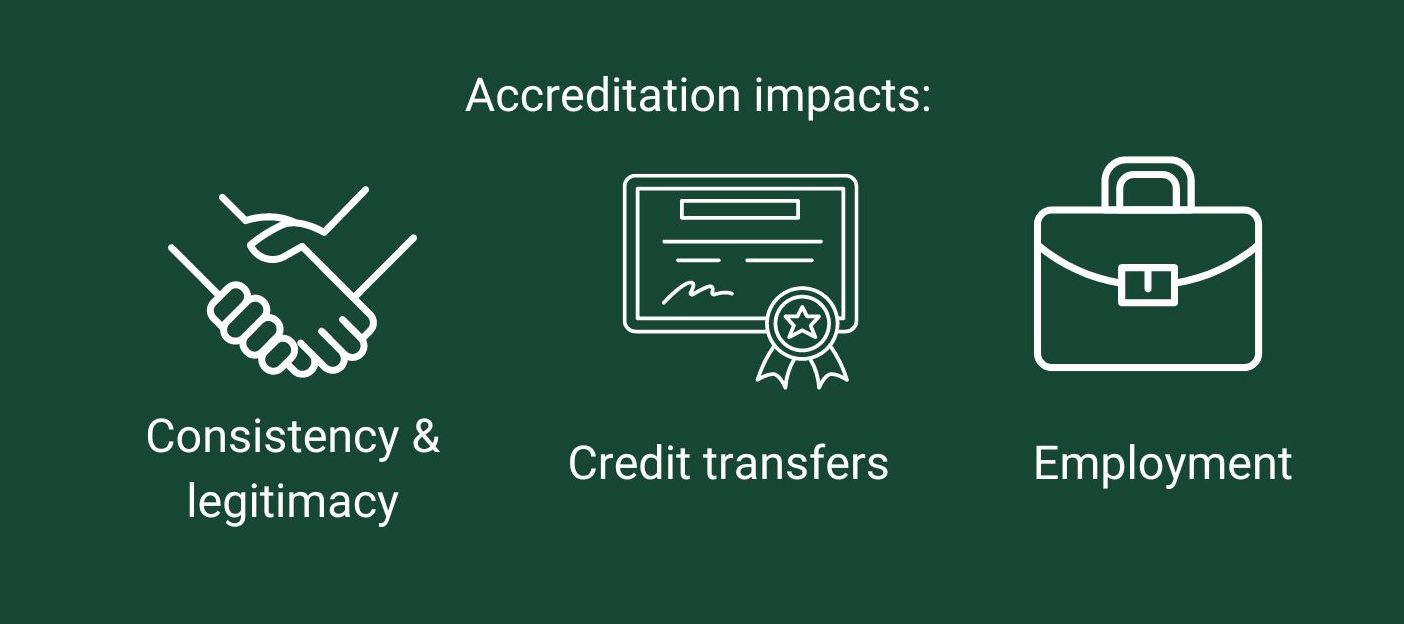 How do I know if my institution is accredited?
Get ahead with a regionally accredited U.S. degree online from Saint Leo