About Saint Leo University

Competence and Courage for a Changing World
We let you be more and do more

Saint Leo University, established in 1889 as Florida's inaugural Catholic institution, has an illustrious history of offering students a life-changing education rooted in enduring values. Our primary aim is to ignite inspiration in students, helping them realize their full potential and become trailblazers for future generations. Experience firsthand why our esteemed university is consistently recognized as one of the top educational institutions in the state of Florida.
In June 2021, Saint Leo University proudly opened its virtual doors to Indian learners, marking the beginning of a transformative educational journey. Since then, we have joyfully embraced dozens of Indian students who have made the empowering choice to pursue their U.S. degree through our online programs. Join us and unlock a world of possibilities from the comfort of your own home.
As one of Florida's oldest Catholic universities and the largest among the four Catholic higher education institutions in the state, Saint Leo University stands proudly at the forefront of reshaping 21st-century education, making it accessible to all. With a global reach, we now proudly serve over 14,000 students hailing from every corner of the United States, including the District of Columbia and three U.S. territories, as well as over 100 countries worldwide.
For over 22 years, our pioneering online education programs have been transforming lives and shaping the future. Through these innovative offerings, we have been able to extend our Catholic values of inclusivity and compassion to a diverse array of students across the globe.
Mission Statement
Saint Leo is an inventive global Catholic liberal arts university that fosters a personal and inclusive community which educates, prepares, and develops students for success, and consists of diverse learners who boldly confront the challenges of our world through service to others.
Saint Leo Vision Statement
A Leading Catholic Teaching University of International Consequence for the Twenty-first Century:
A leading Catholic teaching university that attracts students, faculty, staff and philanthropic support
Internationally recognized as an innovative and challenging university of demonstrated quality
Alumni who are sought by employers and graduate schools and are prepared to live and work in a global society
One institution serving multiple populations through appropriate delivery systems in multiple locations
A values-driven culture that appreciates, supports and leverages our diverse programs and operations
An entrepreneurial organization connected to alumni, communities, and strategic partners
A financially strong university that invests in people, facilities and technology
Integrated learning environments with leadership at all levels and a shared vision that excites, motivates and inspires.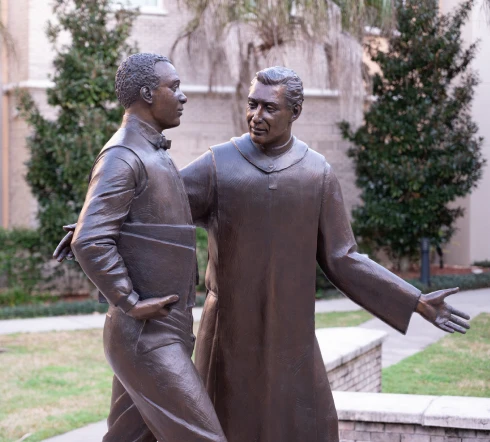 Catholic Identity Statement
Saint Leo University is a community rooted in the Catholic faith and in the spirit of our Benedictine founders. We are an outgrowth of Catholic social teaching, which insists that human institutions and relationships be based on dignity as well as social and economic justice. The university also adheres to the Catholic intellectual tradition, which celebrates the compatibility of faith and reason, and thus, welcomes students of all faiths and intellectual traditions.

Saint Leo University welcomes and embraces in the Catholic Benedictine tradition individuals of all faiths. The university seeks balanced growth in mind, body, and spirit for all members of our community. Our community recognizes the dignity, value, and gifts of all. At Saint Leo, learning is of prime importance, and we work to meet the evolving needs of our communities and the world around us. The university offers professional degree and certificate programs in science, health sciences, business, education, social work, social sciences, and humanities. We are foundationally an agile liberal arts university that believes teaching and scholarship work together to bring innovation into the classroom. Saint Leo University offers a practical and effective student-centered model. The university creates a transformative education where we promote and build equity, inclusion, and justice among diverse people and cultures.

Saint Leo University is a community rooted in the Catholic faith and in the spirit of our Benedictine founders. As a Catholic institution of higher learning, Saint Leo University supports what Ex Corde Ecclesiae terms the four essential characteristics of a Catholic University:

Christian inspiration.
Faith reflection.
Fidelity to the Christian message.
Service to church and humanity.
Saint Leo's identity is an outgrowth of Catholic social teaching, which insists that human institutions and relationships be based on a recognition of the dignity of all human beings and demands social and economic justice for all; and the Catholic intellectual tradition, which celebrates the compatibility of faith and reason which means that the university welcomes an open and free dialogue among persons of differing religious and intellectual traditions.
In summary, our Catholic Identity calls us to:
Invite all members of the community to share and develop their beliefs and faith traditions.
Reflect with purpose, pray with passion, and seek wisdom in sacred texts.
Celebrate liturgy and the sacramental life in times of joy and sorrow.
Offer the best liberal arts education rooted in the Catholic intellectual tradition.
Offer programs that are appropriate for the professions that students seek to enter.
Foster an academic environment that promotes spiritual, intellectual, and ethical transformation.
Support quality and rigorous scholarship to advance the common good.
Act in solidarity with people who are poor, oppressed, and marginalized.
Cultivate servant leadership that respects and upholds the dignity of faculty, staff, and all members of the university.
Advocate for social justice, guided by Catholic social teaching.
Highlights
1889
Saint Leo University was founded
2,400 on campus;
18,000+ total
Number of Students
Accreditation
Saint Leo University is accredited by the Southern Association of Colleges and Schools Commission on Colleges (SACSCOC) to award associate, baccalaureate, masters, specialist, and doctoral degrees. Saint Leo University also may offer credentials such as certificates and diplomas at approved degree levels. Questions about the accreditation of Saint Leo University may be directed in writing to the Southern Association of Colleges and Schools Commission on Colleges at 1866 Southern Lane, Decatur, GA 30033-4097, by calling (404) 679-4500, or by using information available on SACSCOC's website (www.sacscoc.org).
Furthermore, our business programs have received program-level accreditation from the Accreditation Council for Business Schools & Programs (ACBSP), an esteemed global organization that recognizes excellence and promotes continuous improvement in business education. This accreditation ensures that our programs remain industry-relevant and of the highest quality.
At Saint Leo University, our accreditations serve as a testament to our unwavering commitment to delivering exceptional education. You can have full confidence in the relevance and caliber of our programs. To learn more about the significance of accreditation for U.S. universities and its implications, we invite you to explore our informative blog post.
Our Core Values

As an online student from India, you are warmly embraced into the vibrant community of Saint Leo University. Through our virtual learning platform, you will engage with accomplished Indian faculty, collaborate with classmates nationwide, and gain valuable connections within our extensive alumni and professional networks. This immersive online experience will shape your academic journey and empower you for a successful future.
Building on our Benedictine foundation, we at Saint Leo are committed to excellence and we all work diligently to ensure that our students develop character, learn skills, and assimilate knowledge essential to becoming morally responsible leaders. We foster and build a hospitable Catholic and Benedictine learning community everywhere we serve. We nurture a spirit of belonging, unity, and interdependence based on mutual trust, integrity, and respect to create socially responsible environments that challenge all of us to listen, to learn, to change, and to serve. The university stresses the development of every person's mind, spirit, and body for a balanced life. We think it is also important that all members of the Saint Leo University community demonstrate their commitment to their own personal development to better serve the institution and its mission. Moreover, we are guided by a strong sense of responsible stewardship, resourcefulness, and frugality.

Excellence
Saint Leo University is an educational enterprise. All of us, individually and collectively, work hard to ensure that our students develop the character, learn the skills and assimilate the knowledge essential to become morally responsible leaders. The success of our University depends upon a conscientious commitment to our mission, vision and goals.
Community
Saint Leo University develops hospitable Christian learning communities everywhere we serve. We foster a spirit of belonging, unity and interdependence based on mutual trust and respect to create socially responsible environments that challenge all of us to listen, to learn, to change and to serve.
Respect
Animated in the spirit of Jesus Christ, we value all individuals' unique talents, respect their dignity and strive to foster their commitment to excellence in our work. Our community's strength depends on the unity and diversity of our people, on the free exchange of ideas and on learning, living and working harmoniously.
Personal Development
Saint Leo University stresses the development of every person's mind, spirit and body for a balanced life. All members of the Saint Leo University community must demonstrate their commitment to personal development to help strengthen the character of our community.
Responsible Stewardship
Our Creator blesses us with an abundance of resources. We foster a spirit of service to employ our resources to university and community development. We must be resourceful. We must optimize and apply all of the resources of our community to fulfill Saint Leo University's mission and goals.
Integrity
The commitment of Saint Leo University to excellence demands that its members live its mission and deliver on its promise. The faculty, staff and students pledge to be honest, just and consistent in word and deed.
Our Traditions and Responsibilities
Our Traditions

As a university, we seek to create a community of mutual respect and learning among our diverse members, believing that active and vibrant conversations, and being open to a wide variety of opinions and beliefs, is necessary to the informed search for truth.
Our campus maintains an active faith community that we celebrate and that thrives on the spiritual participation of members from all backgrounds and traditions. Indeed, our sacramental tradition, which is essential to our Catholic identity, calls us to open ourselves to the mystery of God in everyday experiences and interactions, even in the hardest, most challenging experiences. The Eucharistic presence and accessibility to religious services serves as a constant reminder of the ever-present love of Jesus who invites all to spiritual reflection and daily prayer.
We are committed to grounding ourselves more deeply in the reality of the mystery and beauty of our faith. We also strongly support members of other religions to pray and reflect according to their own beliefs and practices. As is written in Nostra Aetate, it is through "dialogue and collaboration with the followers of other religions, carried out with prudence and love and in witness to the Christian faith and life" that we can "recognize, preserve, and promote the good things, spiritual, and moral, as well as the socio-cultural values found among" others as well as ourselves.
Our Educational Tradition
Education is valued not only in itself, but also for its contribution to human good, particularly its contribution to bettering the lives of the underserved. Through interpersonal relationships, academic and professional programs, and student activities of many types, students, faculty, and staff alike are challenged to respond to human need in constructive, life-giving ways. We educate traditional students and adult learners in face-`to-face, online, and other approaches to meet students' educational needs and goals. Additionally, the university undertakes the study of serious social problems in order to seek out root causes. We welcome special attention to issues of ethical and religious dimensions. We develop the whole person. We accept the intersection of intellect and faith, and reason in the pursuit of the truth.
Our Responsibilities
Leaders, administrators, faculty, and staff at the university are particularly responsible to work collaboratively with the church's pastoral authorities, each other, with students, and with the university community at large. In addition, the welcoming, inviting spirit which pervades Saint Leo finds its truest identity in collaboration, consultation, inclusivity, non-elitism, an ecumenical attitude, and a view there is a genuine interdependence at every level and in every endeavor of work, spirit, and celebration.
Our President - Dr. Edward Dadez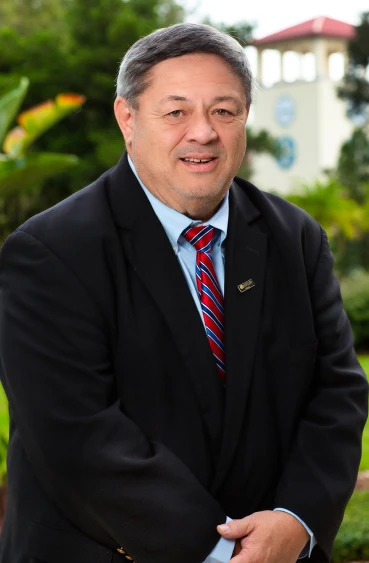 As a Saint Leo University alumnus and longtime leader of the university, Dr. Dadez holds a strong passion and appreciation for Saint Leo's core values; its diverse students, faculty, and staff; and life-changing mission. Before becoming the second provost of the university, he was a visiting professor in Graduate Education. He also held the position of vice president in support of the university's regional education centers, online learning programs, student affairs, and campus operations.
"Saint Leo University's commitment to its core values, Catholic heritage, and close-knit community make it a special place—countless students have thrived here and gone on to make an impact in our world," said Dadez. "I am excited to work alongside students, faculty, staff, and alumni to strengthen the university experience and to help make it possible for more students to pursue their educational and professional goals."
Prior to Saint Leo University, Dadez held several administrative roles in student affairs and continuing education at Ohio State University, University of Dayton (Ohio), Michigan State University, Bucknell University (PA), and Chowan University (NC).
He is also the author of several academic journal articles and has given more than 85 professional presentations and keynotes at local, state, regional, and national conventions and conferences.
Dadez earned his bachelor's degree from Virginia Commonwealth University, a Master of Arts degree from Ohio State University, a Master of Business Administration from Saint Leo University, and a doctoral degree from Michigan State University.
Faculty
At Saint Leo University, our unwavering commitment to our mission revolves around creating a student-centric, values-driven environment that fosters a deep passion for learning. Our esteemed online instructors bring a wealth of expertise in their respective fields, offering invaluable real-world experiences to students who are driven to transform or advance their careers.
Our professors hold either a doctorate or master's degree in their specific area of instruction. Alternatively, they may possess a master's degree with a specialized focus in the discipline they teach, accompanied by a minimum of 18 semester graduate hours dedicated to the teaching discipline. This ensures that our students receive top-tier education from accomplished experts in their fields.